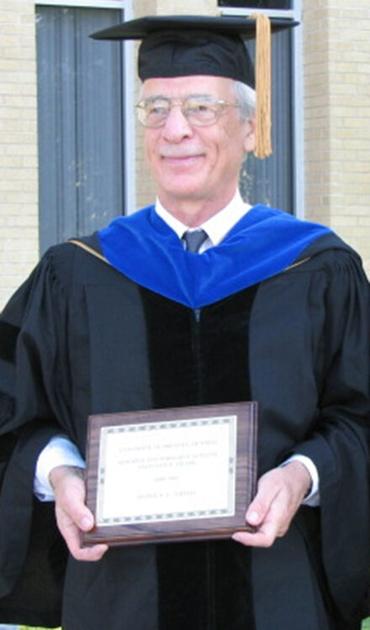 Retired professors from UHV receive professor emeritus status | New
Two retired faculty members from the University of Houston-Victoria were each awarded the title of Professor Emeritus for their years of service at the university and their profession.
The UH System Board of Regents recently appointed Professor of History Hal Smith and Professor of Computer Science Meledath Damodaran Emeritus Professors. Smith joined UHV in 1976 and retired in 2013 after teaching full time. Damodaran joined the faculty in 1991 and retired from full-time teaching in 2010.
"The UHV has been extremely fortunate to have professors like Dr Smith and Dr Damodaran who have helped create a foundation of excellence here," said Chance Glenn, UHV Rector and Vice President for academic affairs. "The work they have done in their fields and in the classroom has been crucial to the success of the UHV and is part of the history of our university. I am proud to see these two receive the honorary status of professor emeritus. "
Smith and Damodaran now join retired UHV professors Joseph Ben-Ur, Diane Prince, William O. Nesbitt and Robert F. Zawadzki as UHV professors emeritus. The UH System also recognized Don Smith as Provost Emeritus.
The title of Professor Emeritus is bestowed upon retired faculty members by their colleagues in recognition of their university service and profession. To be eligible for emeritus status, a retired faculty member must have completed at least 10 years of full-time service at UHV and have reached the rank of associate or full professor. The title is awarded through a selection process that includes a recommendation from the school, votes from the university faculty and UHV faculty Senate, and approval from the Board of Regents of the UH system.
"Dr. Smith and Dr. Damodaran are a vital part of the history of UHV and have had a positive impact on so many students," said Craig Goodman, Acting Dean of the School of Arts & Sciences. Their efforts have helped transform the UHV, and this only matches their contributions as recognized scholars and researchers with the rank of professor emeritus. "
Smith had one of the longest tenures at UHV with 37 years of full-time teaching. He joined the School of Arts and Sciences in 1976, when the university had only been open for three years. He has taught a variety of history courses including "Modern Britain", "Gender Studies", "The French Revolution", "Nazi Germany" and more.
One of the biggest changes Smith has seen at UHV has been online education. In 2000, the university encouraged him to teach an online course to help make higher education accessible to people outside of the 13 Crossroads counties and he taught his first online course.
"When I switched to online education, I had students from all over Texas and as far away as Germany and Saudi Arabia," Smith said. "It has been such an interesting experience to watch the university develop and provide access to higher education to a much wider range of students than that originally served by the UHV."
While teaching full time at UHV, he received the UHV Teaching Excellence Award twice, first in 1988 and again in 1997. In 2007 he received the UHV Research and Scholarly Activity Excellence Award . Smith's research has been published by Oxford University Press and Cambridge University Press, and two of his books have won awards.
Two of Smith's books, "British Feminism in the 20th Century" and "War and Social Change: British Society in the Second World War", were required readings at the universities of Cambridge and Oxford; several of his other books were required readings at the University of Oxford and other universities in the United States and Great Britain. Smith was also elected a fellow of the Royal Historical Society of Great Britain by British historians in recognition of his significant contributions to scholarship on British history. He was a visiting scholar at the University of Oxford during the St. Michael's Quarter of 1994 and shared his research results with their professors and students.
In addition to teaching, Smith said he was honored to have served in various positions to help the UHV grow and develop. Administrative positions he held included University Research Officer, Special Assistant to the President, and Director of the History Program. Although Smith retired from full-time teaching several years ago, he continues to teach part-time online for college.
He said he enjoyed being a teacher and seeing his students succeed in their careers after graduating from college. He is also proud and honored when he hears from students that he has contributed to their success as well as their education.
"I am extremely honored and very happy to receive this status, and I appreciate all the work people have done to advance my nomination throughout the selection process," said Smith. "It is a great honor and recognition of my years of service at UHV, and I am honored to have contributed to the growth and development of UHV. "
Damodaran arrived at UHV in 1991 as an associate professor of computer science. While at UHV he was promoted to Full Professor and became the coordinator and helped create the UHV Computer Information Systems program. He spent nearly 20 years as a full-time faculty member and taught a course as an adjunct faculty member for several years after his retirement.
Some of the courses Damodaran has taught at UHV include "Advanced IT Project Management", "Information Security, Privacy and Ethics", "Computer and Data Security" and "Artificial Intelligence". In 1992, Damodaran received the prestigious Fulbright Scholar Award and taught in India for five months. He then spent a year as a visiting professor at an institution in India while on sabbatical at UHV.
He fully retired from teaching in December 2019.
"I am extremely happy and honored to be named professor emeritus, and I consider it a gift from my colleagues and the administration," said Damodaran. "Thanks to this appointment, I will be able to stay connected to the university where I have given my heart and soul for 29 years. UHV is very close to my heart.
The UHV School of Arts and Sciences was different in 1991 when Damodaran was first hired, he said. At the time, the university shared a floor in a building at Victoria College. He entered the computer science program when there was a full-time faculty member. Within a few years, the UHV Computer Information Systems program was established, and several semesters later, enrollment required the hiring of additional faculty.
He also helped develop the Graduate Program in Computer Information Systems, UHV's first fully online program. Along with another faculty member, Damodaran helped create the Digital Games and Simulation Concentration, which became his own curriculum. It also launched Math and Computer Awareness Day, a day camp for local youth to learn about computer and science, technology, engineering and math.
In addition, he held several other positions at the UHV, in particular as a representative of the School of Arts and Sciences for the Faculty Senate and as a member of several committees, notably the Promotion and Promotion Committee. tenure, the President's Search Committee and the Dean's Search Committee. He also sat on the Academic Affairs Committee of the UHV.
Damodaran is grateful to the university and the faculty, and is happy to see the university continue to develop. His time at UHV was filled with good experiences, exceptional colleagues and supportive staff, he said.
"It's wonderful to see the young colleagues and professors continue to make UHV a great place with scholarships and programs," said Damodaran. "The university does an outstanding job contributing to university programs and helping students succeed.