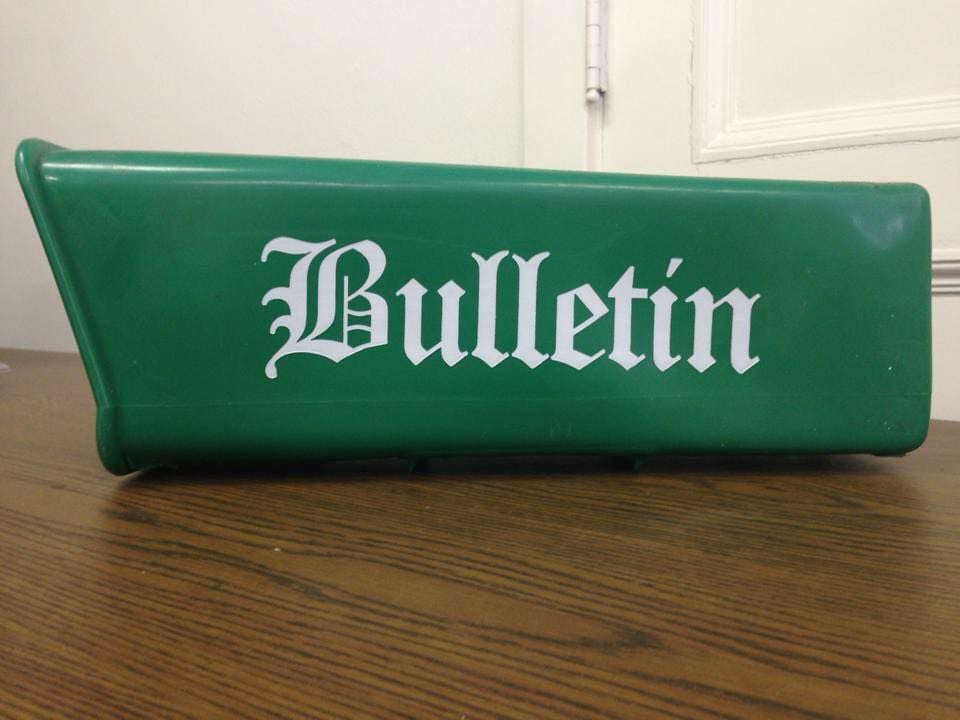 July 9-11, 2021 | Bulletin board
Kudos to Unity Township's 9-year-old opera singer Victory Brinker who won the "Golden Buzzer" on Tuesday night's episode of NBC's "America's Got Talent," which means her performance was so good that the four judges and the host want to advance her straight from the audition round straight to the live performances.
* * *
The Knights of Columbus Daniel P. Nolan Council 940 of Latrobe has an ongoing program of monetary donation to help fund two food banks in the greater Latrobe area – the Greater Latrobe Ministerial Association and the Latrobe Salvation Army.
Tony Dominick and John Smetanka call on "Brother Knights, families and friends to continue to support this program, which began in 2012". This can be done by sending "checks only", payable to the Knights of Columbus, to Tony Dominick, 184 Cemetery Road, Latrobe, PA 15650.
Tony added, "Stay healthy, stay safe and God bless you all."
* * *
Knights of Columbus Council 940 Daniel P. Nolan de Latrobe will hold its next meeting at 7:30 p.m. on Monday, July 12 at the Council House in Loyalhanna.
All Brother Knights are invited to attend and encouraged to participate. Refreshments are served after the meeting.
* * *
The 1971 Grand Latrobe High School Class 50th Anniversary Reunion is scheduled for Saturday August 28 at DiSalvo Station in Latrobe.
Class spokesperson Jean Calabrace said: "The committee has tried to update our contact list. We had over 500 students graduating in 1971, so you can understand that this has been a daunting task.
"If you haven't received an invitation or know someone who hasn't, you can contact us through our email at [email protected] or on Facebook at Greater Latrobe HS Class of 71.
"We really want to see as many alumni as possible make it to our 50th reunion.
"Thank you very much for all you do for Latrobe, Louise."
* * *
The 1961 Ligonier Valley High School Class 60th Reunion is scheduled for Saturday August 14 at DeNunzio's Italian Chophouse, Arnold Palmer Regional Airport, Unity Township.
Classmates who have not received an invitation can contact Linda @ 724-694-5439, Judy @ 724-879-4360 or Sandy @ 724-537-7834. They can't wait to see you.
* * *
I got a voicemail message Wednesday morning from the president of Greater Latrobe Cross Country Boosters.
She said the group will be holding a car wash, their first fundraiser of the year, from 10 a.m. to 4 p.m., Saturday, July 10, in the parking lot of Sharky's Café, between Highway 30 and Mission Road, in the township of Unity.
"Donations only" will be accepted.
* * *
The Greensburg Garden Center Garden Clubs will be hosting their biennial Garden Tour this year! Mark your calendars from 10 a.m. to 4 p.m. on Saturday, July 31, "rain or shine".
The organizers said, "We have seven unique and beautiful gardens to showcase between Delmont and North Huntingdon. The cost is $ 20 in advance and $ 25 on the day of. Call our office (724-837-0245) for details and tickets.
Additionally, the Greensburg Garden Center will host its ever-popular Monarch Butterfly Edition on Saturday August 14 in its own Lefevre Butterfly Garden, located behind the GGC building (951 Old Salem Road). There will be two hours of release: 11 am and 1 pm Nicky, secretary of the nonprofit educational organization, said: "Butterflies go fast, so book your monarch today by calling 724-837- 0245. "
* * *
LAHS Secretary Connie Marucco writes:
"We hope you are doing well and enjoying the summer. The Latrobe Area Historical Society is open and welcoming visitors. We missed seeing everyone. Come see our exhibitions, do your research and learn about our history. If you have family and friends in town during the summer, be sure to put us on your list of must-see stops. Our opening hours are Tuesdays from 1 p.m. to 3:30 p.m., Fridays from 9 a.m. to 1 p.m. and Saturdays from 9 a.m. to 11 a.m. If you have a visiting group, we can arrange special times for you. Several Latrobe class reunions will be coming to see us this year, and several families who have reunions have booked a time to come and tour. Contact us at [email protected] or call us at 724-539-8889 and leave a message.
"Even though we are the historic company, we have joined the current century with our new Latrobe website History.org and find us on Facebook at Latrobe Area Historical Society. The website and Facebook sites offer interesting and up-to-date information about our history and activities. Also on our website you can become a member, order Latrobe products and donate or offer a membership.
"We have started our monthly mornings and we invite all of you to attend. On Friday and Saturday July 23 and 24, it will be "4th and 5th Wards Revisited", a brand new show. Doors open at 9 a.m. and start of the show at 9:30 a.m. All shows are open to the public and are free. Refreshments will be provided and donations are accepted. Parking is on the street on Fridays and Saturdays you can park at the corner of Weldon and Alexandria at Kelly, Sparber & White CPA.
"Happy to see you again!"
This is from Anthony A. Matuszky, spokesperson, Youngstown-Whitney VFD:
"I just wanted your readers to know that the Youngstown-Whitney VFD Sub Sale will take place on Saturday, July 10 at Lowe's Lot in Wildcat Commons and U-Haul Lot at Mountain Laurel Plaza. Unfortunately, due to a general increase in supplies, we have to increase the price of our submarines to $ 8. Come buy one or more submarines and say hello to your firefighters.
* * *
Veterans of Foreign Wars Paul Lizza de Latrobe's extension 3414 will be holding its monthly meeting at 5:00 p.m. on Monday, July 12 at extension 204 Spring St. Spokeswoman Linda Butler said, "Come meet the new Auxiliary president, Michaele Castele. We love our veterans.
* * *
St. James Catholic Church will host the Country Music Night from 6 p.m. to 10 p.m. on Saturday, August 7, outside on church grounds at 306 St. James Lane, off Hwy 119 & 22, New Alexandria.
Admission of $ 15 per adult and $ 5 for a child under 12 includes dinner and DJ. Make checks payable to St. James Rosary Altar Society.
Spokeswoman Laura Nalevanko encourages attendees to "wear your cowboy hats and boots!" "
Contact the parish office at 724-668-2829 to register or visit www.stjamesnewalexandria.org.
* * *
Melissa Leonard, supervisor of the New Alexandria Center for Active Adults, "a nonprofit organization that depends on fundraising to meet its obligations," announced this week:
"The special Saturday bingo will be held here at the center on July 17th. Reservations are not necessary, but are recommended. If you confirm by calling the center at 724-668-7055 before Wednesday July 14, you will receive an additional jackpot card for free.
"The theme for this month is 'Luau'. You can also receive an additional jackpot ticket by wearing something Luau-related.
"The cost of admission is $ 20, which includes your lunch, 10 bingo cards (six squares) and one bingo card (three squares) for the jackpot game. Lunch for Luau Bingo will include a ham barbecue, macaroni salad, baked beans, and pineapple upside-down cake.
"We will also be offering 50/50 tickets, basket raffles and Rippie tickets. After being locked in our homes last year, it would be really nice to see everyone come out and have a fun and enjoyable day with us, socializing and playing bingo!
"Doors open at 11:30 am Lunch is served at noon and bingo begins at 1:00 pm Questions, directions or reservations can be directed by calling 724-668-7055 Monday through Friday 8 am 00 to 3:30 p.m. If you call after hours, you can leave a message, and I will answer you as soon as possible. Hope to see you here! "
* * *
Bill Yuhaniak of the Latrobe Hook and Ladder Co. 2 Volunteer Fire Department writes:
"Starting next Saturday (July 17) at our monthly Hoagie sale, our hoagies will be $ 7, due to the high cost of the groceries needed to prepare them for you. This is the first time that we have increased our prices in eight years. We strive to provide you with the best submarines in town at a decent price and will continue to do so.
As always, the members of Latrobe VFD Hook and Ladder Co. 2 thank you for your continued support; it is really appreciated.
* * *
This handwritten note from former LAH employees / retirees:
"We are having our meeting picnic at Slovak Picnic Grounds on Thursday August 19, from 1 pm until ??
"We're asking everyone to bring a covered dish to share, a drink for yourself, a $ 5 donation to help pay for the field rent and picnic supplies, and your own little bottle." hand sanitizer. But if you forget, we'll have bottles with gloves on.
"Dr. (Charles) Amadee and Dr. (Michael) Zorch will provide entertainment.
"We are having a Chinese auction and we will have picnic tickets for them. We will also have door prizes. You have to be there to win.
"Come join us for a day of fun, great company and great food. Hope to see you all on August 19th. Please go to our website, Former LAH Employees / Retirees, and let us know what you are bringing or text Weez or Bernie.
* * *
Don't forget that a Rosary Rally will take place at noon on Saturday July 10, on the lawn of the Sainte-Famille church, 1200, rue Ligonier, Latrobe. Catherine Barger invites the public to "join in prayer for the United States of America as we celebrate our Independence Day and to pray for world peace as well." This event is sponsored by the Holy Family Rosary Society in collaboration with America Needs Fatima.
* * *
the Latrobe Bulletin office reopened to the public from 8 a.m. on Tuesday, July 6, after a long shutdown due to the coronavirus pandemic (COVID-19). The office is open to walk-in clients from 8 a.m. to noon Monday through Friday each week.
* * *
Our first visitor to the newsroom, Bill Borsari, said: "Welcome, Louise. Kennametal Retirees Local 1059 will meet at 1:00 p.m. on Tuesday, July 20 at the Latrobe Center for Active Adults, Avenue C. All retirees are invited to attend a discussion period.
* * *
Email bulletin board items to
Lifestyles Editor Louise F. Fritz
no later than 8 a.m. on Thursday