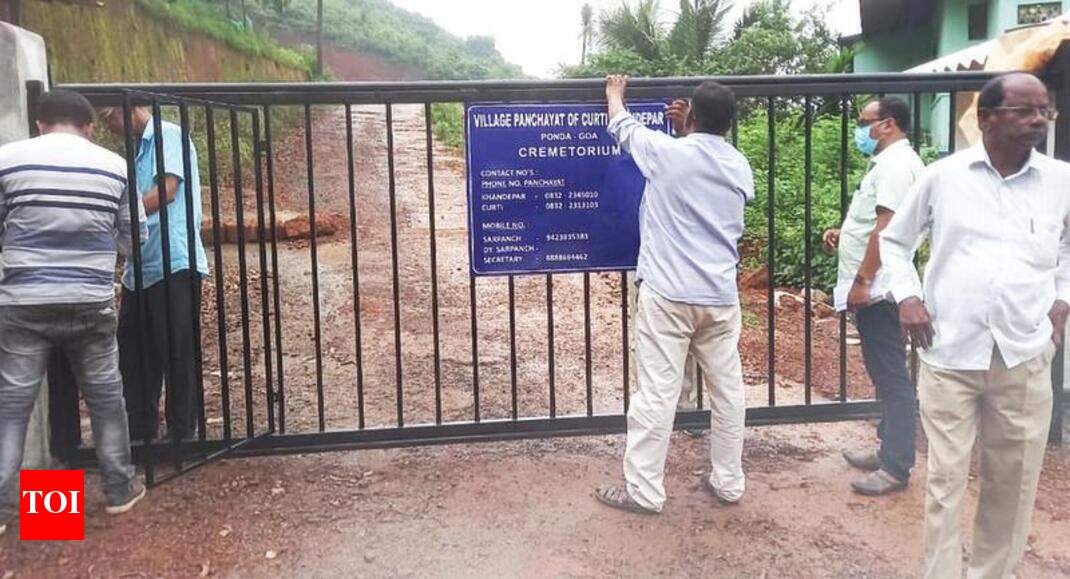 Curti Panchayat Finds Unknown Tombs, Locks Last Sacraments Site | Goa News
Ponda: After noting a disparity in the number of burials conducted in their interfaith crematorium and funeral complex compared to the actual records kept by them, the Curti-Khandepar panchayat placed a door at the entrance to allow use of the site.
Spread over the 17,000 m² of land near Deep Nagar Curti, a suburb of the town of Ponda, the complex has a crematorium for Hindus and a cemetery for Catholics, Muslims and other communities who wish perform the final rites.
Since the crematorium does not have a shed for the cremation of Hindu bodies, these final rites are conducted at the Ponda "Muktidham" crematorium, while Catholics have their own cemetery in Ponda. The Curti complex is mainly used by migrants to bury their dead.
"When we visited the complex, we found over 300 graves there, but the panchayat recorded barely 65 rites. The complex has been in use for 15 years and it is difficult to calculate how many bodies were buried in the cemetery during this period, "said sarpanch Gurudas Khedekar.
He said that such uncontrolled use of the site also resulted in loss of income for the panchayat and as a result, they posted the cell phone number of the secretary of the panchayat so that people could contact him to get a receipt after they had made the necessary payments to the panchayat to perform the final rites.
The panchayat erected a compound wall and a gate around the complex. The door has been locked and the civic body is considering appointing someone at the complex to manage the site, the sarpanch added.
He said they even discovered that people living nearby were using the road leading to the complex to park their vehicles. Such attempts will now be halted, Khedekar said.
The complex lacks some basic facilities such as a shed with seating for those attending the final rites and a water connection. The panchayat would try to put them in place soon, he said.